Microsoft Teams - Enterprise Enablement
Massive Savings & Voice Transformation

Participating in the [PE Firm] portfolio wide IT/telecom spend review initiative in partnership with a leading turnaround consulting firm, [client] engaged Resourcive to assist in the transition away from a disparate legacy on-prem voice infrastructure towards a unified cloud-based solution through Microsoft Teams.

While the initial review substantiated [client's] accounting of spend and usage, they needed help figuring out which users actually needed PSTN access to make outbound calls. Resourcive's experience sourcing and implementing voice enabled Microsoft Teams on an international scale underpinned our ability to identify strategies for [client] to procure cost effective licensing while also avoiding costly and unnecessary PSTN access for users across the globe.

This subject matter expertise allowed [client] to streamline selection process for geographies where Microsoft could not provide reliable dial tone. Additionally, Resourcive leveraged a multi-direct routing partner solution to ensure best-in-class service to all users worldwide.

Lastly, Resourcive worked with key stakeholders to manage the implementation and turn-up of unified Teams solution, providing dedicated service delivery support for APAC and EMEA locations.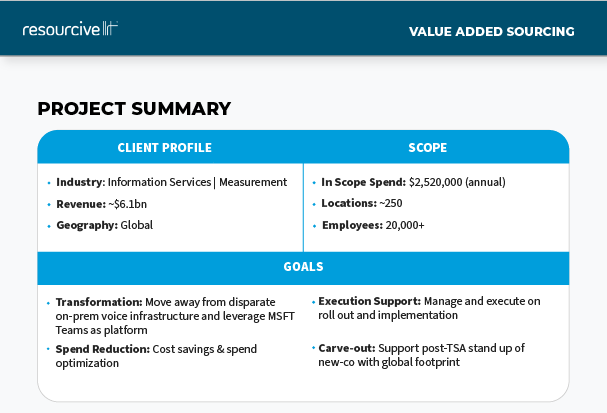 Testimonial:
The partnership between [client] and Resourcive has been outstanding! Michael Arnold and his team have been on top of everything (Capacity and Financial Analysis, RFP, Vendor Selection) and have been professional, responsive, and very knowledgeable throughout the entire process, especially in the areas that are new to [client].

We are now at the point where we are ready to begin the ordering and setup of new service and I am confident that Resourcive will continue to ensure we are getting the right level of responsiveness from the carrier and that our deadlines will be properly managed.

I would definitely recommend Resourcive to other customers and would use them again in the future if I were in need of their expertise.


Sr. Director, Infrastructure Engineering & Operations
Interested in exploring Resourcive's MSFT Teams services?
Book a meeting with Nick Creasey, Managing Director