Secure Cloud Backup for Microsoft 365

Ever hear the statement "you'd have to be living under a rock not to know…"?

I can say that in the IT world this statement can apply to the rate at which organizations are migrating to Microsoft 365. Regardless of your role, chances are you are aware that hundreds of millions of users now use Microsoft 365 to fill a critical need of hosting their email (Exchange), sites (SharePoint), end-user storage (OneDrive) and collaboration tools (Teams). In fact, depending on the industry as many as 70% of organizations have a 365 license.

But what about something less obvious with 365?

Well, while you may understand that 365 provides key value to your company by removing management and maintenance of the infrastructure required - according to Veeam, the number one misunderstanding of 365 customers is awareness they are responsible for protecting their data on the platform via 3rd party backups. A lot of people assume a SaaS offering should mean everything is built in!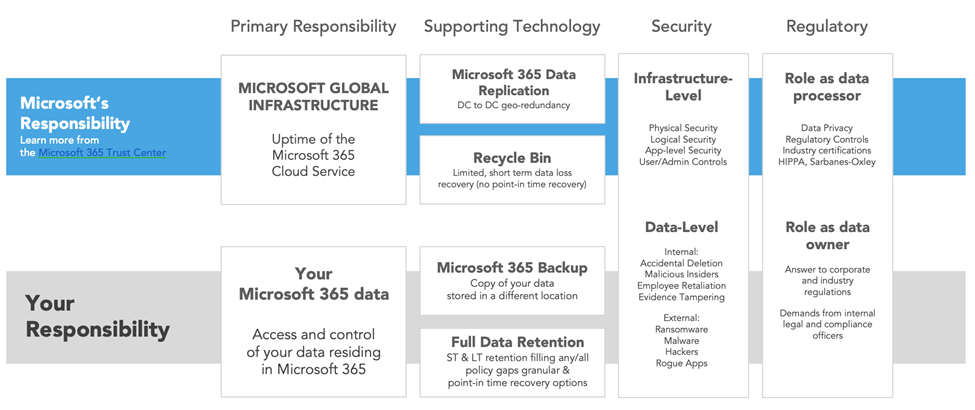 As you can see above, Microsoft handles many components of the datacenter, hardware, and service availability, but as a customer, access and protection of the data for 365 falls in your hands.

So what does this mean? What are the consequences if you do nothing? And what approaches do you have for solving this gap?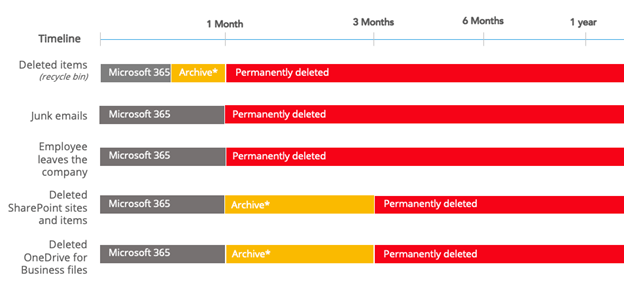 The image above has a lot of details, but the key takeaway is that for many normal activities in 365 your data is permanently gone after 14-30 days. This can put you at risk of being unable to recover from accidental deletion or encryption, and ultimately unable to meet retention policies and assist in user restoration or legal team requests - which can be a painful position.

To compound this challenge there are a number of reasons outside of "normal activities" that can cause data to become unusable. Below you can see a list of 5 of the more common reasons backup for 365 is a must have: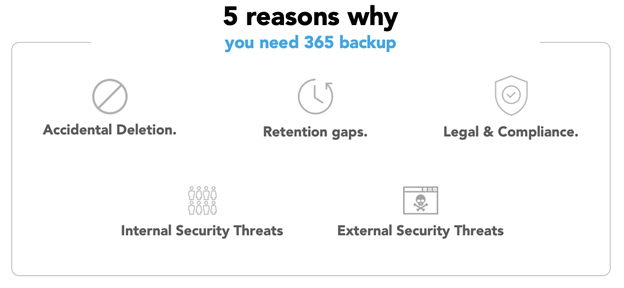 Ok, by now you likely understand that with the data in 365 serving as the lifeblood for your organization and the number of risks to that data - that you need to take action. So, what are your options?
Comprehensive backup for Microsoft 365 ensures your critical productivity data is secure, protected, and accessible when you need it.
Do it yourself? Well before you go down that path it is worth giving thought to why your organization moved to 365 in the first place. A DIY approach to backing up 365 data (whether on-prem or in the cloud) can mean a number of systems to install, configure, and maintain. Subsequently, as your 365 footprint grows, so must your backup and the resources to maintain it.

Conversely, there are 'as a service' cloud-based options in the market that take all the heavy lifting off of your plate. These cloud-based solutions preserve your investment and align with the cloud-based 365 environment.

Below is an example contrasting a typical DIY deployment and associated responsibilities vs. cloud-based as-a-service option :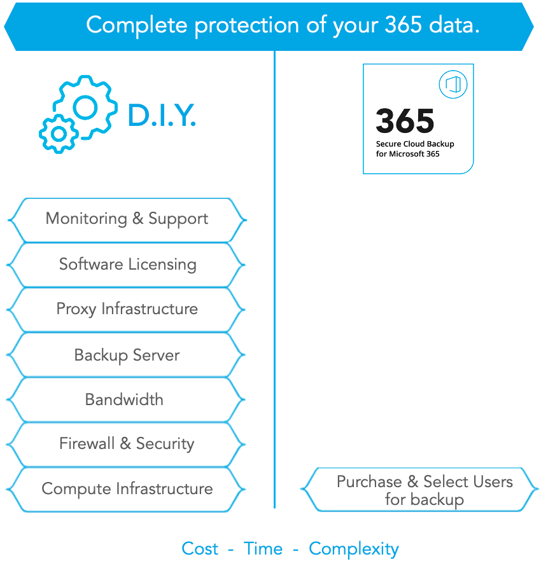 There is a lot to be said about the value of an as-a-service solution, especially when it comes to infrastructure, but it is not always as cut and dry of a decision as it seems. As was alluded to before when considering a buy vs. build analysis for your 365 backup, your organization's general cloud strategy should play a key factor in determining the best path forward to secure your data.
Other key considerations:
Focus on recovery: Ensure your strategy allows for instant, flexible recovery from the threats you are looking to mitigate.
Plan for growth: Your attachments, number of messages, and OneDrive usage will increase over time. Have a strategy that grows with you.
App Adoption: Account for additional 365 applications your team will use now and in the future, and what your protection strategy will be.
Not sure where to start? Resourcive can help. Our consultants can provide clarity and peace of mind to your most pressing technology challenges.


Resourcive Value Add to Secure Cloud Backup for Microsoft 365
TCO modeling to crystalize the buy vs build analysis
SME guidance to ensure your 365 backup fits into your general cloud strategy and technology roadmap
Proven strategic IT sourcing process to procure the right cloud backup partner to fit your needs and requirements.